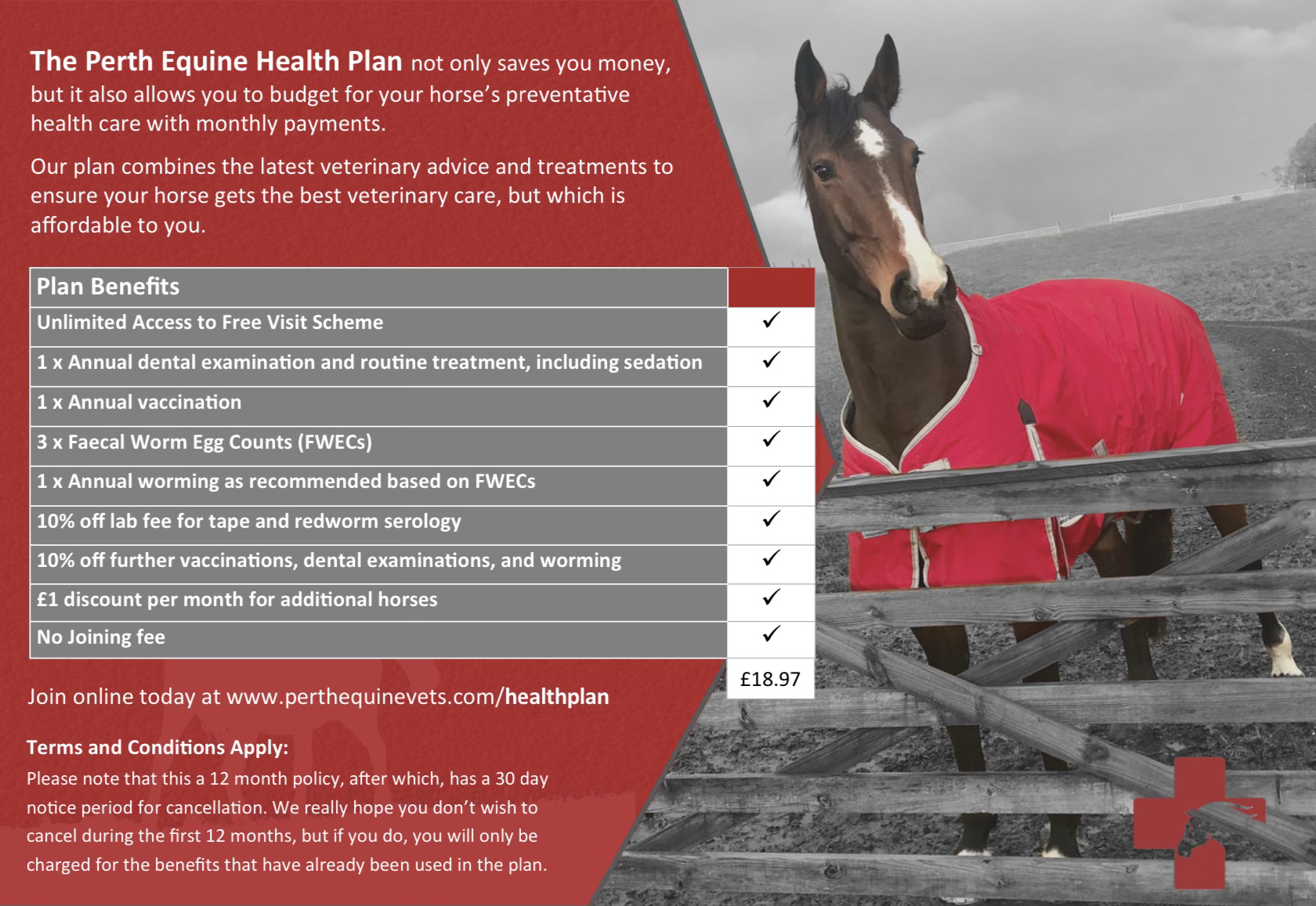 Spread the cost and save money with our equine health plan
We all know horses are expensive, so a health plan, which allows the cost of routine preventative health care to be spread out over 12 months has been developed.
Priced, very competitively at £18.97 per month, with no joining fee, saving a minimum of  £35 per year per horse. A £1 discount applies to subsequent horses, which means you save at least £45 per year per horse.
Our health plan takes the stress out of your worming programme – recommendations of when to worm, and what with change all the time – we will navigate this on your behalf and send you the egg counts when required, and keep you right on your worming practices.
We have also partnered with a list of local equine-related businesses, giving health plan members exclusive deals and money off. Details will be sent in your quarterly newsletter.
The health plan includes:
Annual Vaccination
£1 discount on additional horses on plan
Annual Dental Examination & treatment
3x Faecal worm egg counts
Annual worming
Plus other discounts
The Perth Equine Health Plan not only saves you money, but it also allows you to budget for your horse's preventative health care with monthly payments.
Our plan combines the latest veterinary advice and treatments to ensure your horse gets the best veterinary care, but which is affordable to you.
Terms and Conditions Apply:
Please note that this is a 12 month policy, after which, has a 30 day notice period for cancellation. We really hope you don't wish to cancel during the first 12 months, but if you do, you will only be charged for the benefits that have already been used in the plan.
Mi Healthy Pet Registration Form
The Guarantee is offered by all banks and building societies that accept instructions to pay Direct Debits
If there are any changes to the amount, date or frequency of your Direct Debit the organisation will notify you (normally 10 working days) in advance of your account being debited or as otherwise agreed. If you request the organisation to collect a payment, confirmation of the amount and date will be given to you at the time of the request
If an error is made in the payment of your Direct Debit, by the organisation or your bank or building society, you are entitled to a full and immediate refund of the amount paid from your bank or building society

If you receive a refund you are not entitled to, you must pay it back when the organisation asks you to

You can cancel a Direct Debit at any time by simply contacting your bank or building society. Written confirmation may be required. Please also notify the organisation.