ABOUT US
About Perth Equine Vets
At Perth Equine Vets, we know how important horses are to their owners, so your horse will only every be seen by an experienced, equine only vet – whether it is during working hours, or in the middle of the night.
Continuity of care is our practice ethos – as we know how important it is to establish a trusting relationship between clients, their horses and the vet. Our clients trusting their vet is something that is very important to us. With Perth Equine Vets, we will encourage you to have the same veterinary surgeon attend your horse every time, whether it is for a vaccination, lameness check or something else so that a trusting relationship can be developed.
Veterinary care is individual to both, owner and horse circumstances, so we will take the time to explain treatment options to our clients, ensuring we embark on the correct treatment for your horse as an individual.
At Perth Equine Vets, your horse will receive excellent veterinary care tailored to you as an owner.
Meet the Practice
For more information on all of our team, please click below.
---
Free Visit Scheme
At Perth Equine Vets we listen to feedback, and want to continually improve the service we offer our clients, and ultimately, improve the welfare of our horses together. With that in mind – we have launched our Free Visit Scheme! Please note, for 5 or more owner sharing a visit at the same time, no visit fee will apply – and that can be used on any day.
Please see the table for information on our free visits. Please note – appointments must be pre-booked in the usual way, using the Book an Appointment form.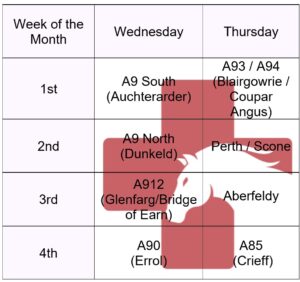 Terms and Conditions apply:
Payment will be taken at the time for all visits when booking under the free visit day.
The usual 5% off for payment at the time will not apply.
Appointment times will change depending on other bookings – we will endeavour to keep a morning / afternoon appointment but flexibility is required on the Free Visit Scheme. We will give you as much notice as possible if there is an anticipated change in time. If flexibility is not possible, then a normal visit should be booked.
The most available equine vet will be allocated to the Free Visit Scheme, this may change at short notice. If you wish to request a specific equine vet, then a Free Visit Scheme day is not the most appropriate.
If payment is not received at the time, then a passing visit fee will be added to the invoice.
Appointments must be booked 48 hours in advance of the free visit day.
Routine consultations only: vaccinations, consultations, dental examinations and follow-up examinations.
This service is only available for clients registered with Perth Equine Vets.
Limited spaces available – once the spaces are full, they are full. Book early to avoid disappointment.
---
Education Series
We are also very passionate about the education of our horse owners, so we can improve the welfare of horses, together. With that in mind, we have launched our "Education Series" which is a series of short videos, explaining how to check and do small things, to keep your horse as healthy as possible. Please visit our YouTube channel by searching Perth Equine Vets. We would also be delighted to hear from you with what topics you would like us to cover next.
---
Nominations Galore!
We have been honoured to receive nominations from a number of different organisations during our first year of business:
Perthshire Chamber of Commerce Most Promising New Business (finalist)
Perth and Kinross Business Awards – Best Veterinary Practice
Perthshire Chamber of Commerce Most Outstanding Young Business Person (finalist)
Petplan Practice of the Year
HorseScotland Equestrian Business of the Year
We are truly humbled for our nominations, and thank our wonderful clients for putting us up for them. Here we are, all scrubbed up, at a recent awards ceremony!