Director & Equine Veterinary Surgeon: Camilla Church BVMS MRCVS
Camilla settled in Perthshire after her graduation from Glasgow Vet School in 2015. Since then, she has worked with mainly horses in mixed and small animal/equine practices. In 2020, she made the difficult but exciting decision to leave a job that she loved, and set up on her own.
Camilla has additional qualifications as a Permitted Treating Vet for the FEI, and is a qualified racecourse vet. She enjoys providing vet cover for endurance and hunter trial events, and is part of the International Blair Horse Trials veterinary team every year. She is currently completing a postgraduate certificate in equine dentistry with the University of Liverpool.
As a mad keen Pony Clubber, horses have always been important to Camilla growing up. She passed the PC A-test in 2017 and since then has become an accredited Stage 4 professional coach with the BHS, with the Stable Managers Certificate. When not teaching, she competes superstar horse Harriet in BS and BE competitions.
---
Director & Equine Veterinary Surgeon: Anna Hammond BVM&S DACVIM-LAIM Cert EM (Int Med) FHEA MRCVS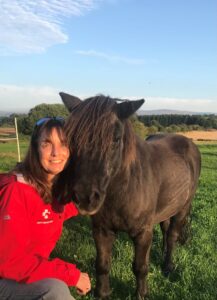 Anna grew up in Fife, graduating from Edinburgh Vet School in 1994 and immediately started a 2-year interns job in the Liphook Equine Hospital. She then headed to the Southern hemisphere working in equine referral hospitals in Australia for 2 years, and New Zealand for 2. It was during this time that she developed her love of stud medicine and after several foaling seasons she became the queen of the pony studs, never had her long, skinny arms been so useful! She returned to the UK to enter a 3 year post-graduate specialist training program at the Royal Vet College in London collecting her Certificate in Equine Internal Medicine along the way. Following this spell in academia she returned to her first love of first opinion equine practice and worked in Sussex for many years, working for several studs, seeing internal medicine cases, lots of vettings and all the routine equine work.
Family reasons forced the move to Bristol University Vet School where she spent 7 years, working both as lead vet in the first opinion practice and also working in the equine referral hospital.  she is a specialist in equine internal medicine, and is a diplomate of the American College of Veterinary Internal Medicine. During her time at Bristol University she re-designed the curriculum for equine reproduction for which she was awarded a teaching prize in 2017.
Anna has presented at national and international conferences, published several papers and is currently external examiner to Nottingham Vet School final year and teaches and examines on the medicine certificate course for the University of Liverpool Vet School.
She is pictured here next to Murphy who is a pony she found in a field and subsequently rescued with the help of World Horse Welfare. In her spare time she loves spending time with her rescue ponies and running marathons.
---
Equine Veterinary Surgeon: Carly Martin-Pope BVM&S MRCVS
Carly was born in Somerset and grew up on a busy livery yard. She spent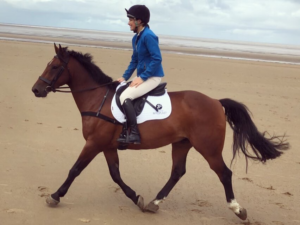 most of her childhood on ponies, attending Pony Club from the age of five, and later on producing her own horses to event.
Carly graduated from The Royal Dick School of Veterinary Studies, Edinburgh in 2010. For the last 13 years Carly has been working as a vet in the South West of England.
Carly is passionate about horses and equine veterinary medicine, with a particular interest in sports horses and lameness. She has a broad range of equine experience ranging from happy hackers, hunters, cobs and ponies to event horses and racehorses. Most recently Carly has been the primary yard vet for two large National Hunt Race yards, and has a growing interest in stud work.
Carly is a qualified and experienced RCVS Riding Establishment Inspector, Racecourse Vet and FEI Vet.
---
Senior Admin Assistant: Sam Wilson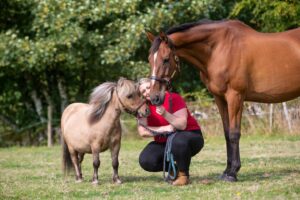 Sam is pictured with her two lovely boys, little Fin and handsome Scoobie
. Sam has settled in really well and works alongside Alison in the office, sorting out appointments, insurance queries, ordering, health plan sign ups and lots more. These girls really keep the show on the road!
Sam is bubbly, enthusiastic and knows all about how hard it is to keep little Shetlands' weights under control; as well as the trials and tribulations of owning an ex-racehorse. Sam is also a trained hairdresser, so the team have already taken advantage of getting their forelocks trimmed already 
.
---
Admin Assistant: Alison Craig
Alison has a reassuring and efficient manner, and joined the team as our admin assistant. She lives locally with her husband and two children, two dogs, 20 Cheviot sheep and lovely horses, Hope and Bracken.  She is on the committee for the local Pony Club and spends lots of time ferrying Hope to rallies with her daughter!
---
Admin & Clinical Assistant: Christina Zdanaviciene
I'm Christina Zdanaviciene, I live in Crieff with my husband Rimy and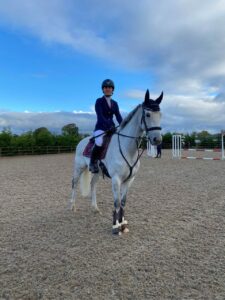 daughter Hollie.  We have 2 horses, Corrie and Boston, and 2 cats.
My passion for horses sparked when my mum and dad reluctantly gave in and got me my first pony (Ginny) on loan when I was 12.
I've worked with Horses since I left school, starting at Crieff Hydro and then moving to Gleneagles' livery yard.
This is where my drive for making equestrianism my career truly began after completing two years there. I started my own freelance groom business where I've met some fantastic people and horses.
2014, I had my daughter, who now at the age of 8, has finally followed in my footsteps and can't get enough of her pony Boston.
I'm very much looking forward to my new venture with Perth Equine Vets and meeting all their lovely clients.