Director & Equine Veterinary Surgeon: Camilla Church BVMS MRCVS
Camilla settled in Perthshire after her graduation from Glasgow Vet School in 2015. Since then, she has worked with mainly horses in mixed and small animal/equine practices. In 2020, she made the difficult but exciting decision to leave a job that she loved, and set up on her own.
Camilla has additional qualifications as a Permitted Treating Vet for the FEI, and is a qualified racecourse vet. She enjoys providing vet cover for endurance and hunter trial events, and formed part of the International Blair Horse Trials veterinary team in 2019. On the side, she is a part time college lecturer for veterinary nursing students online, with the North Highland College. She is enrolled in a postgraduate certificate in equine dentistry with the University of Liverpool.
As a mad keen Pony Clubber, horses have always been important to Camilla growing up. She passed the PC A-test in 2017 and since then has become an accredited Stage 4 professional coach with the BHS, with the Stable Managers Certificate. She has been teaching freelance since 2019, and has lovely clients, both adults and children, that she teaches locally in flatwork and jumping. When not teaching, she competes superstar horse Harriet in BS and BE competitions.
---
Director & Equine Veterinary Surgeon: Anna Hammond BVM&S Cert EM (Int Med) FHEA MRCVS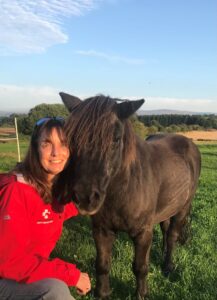 Anna grew up in Fife, graduating from Edinburgh Vet School in 1994 and immediately started a 2-year interns job in the Liphook Equine Hospital. She then headed to the Southern hemisphere working in equine referral hospitals in Australia for 2 years, and New Zealand for 2. It was during this time that she developed her love of stud medicine and after several foaling seasons she became the queen of the pony studs, never had her long, skinny arms been so useful! She returned to the UK to enter a 3 year post-graduate specialist training program at the Royal Vet College in London collecting her Certificate in Equine Internal Medicine along the way. Following this spell in academia she returned to her first love of first opinion equine practice and worked in Sussex for many years, working for several studs, seeing internal medicine cases, lots of vettings and all the routine equine work.
Family reasons forced the move to Bristol University Vet School where she spent 7 years, working both as lead vet in the first opinion practice and also working in the equine referral hospital.  she passed specialist exams in equine internal medicine, she is just waiting for publication of one of her papers to be admitted to the American College of Veterinary Internal Medicine. During her time at Bristol University she re-designed the curriculum for equine reproduction for which she was awarded a teaching prize in 2017.
Anna has presented at national and international conferences, published several papers and is currently external examiner to Nottingham Vet School final year and teaches and examines on the medicine certificate course for the University of Liverpool Vet School.
She is pictured here next to Murphy who is a pony she found in a field and subsequently rescued with the help of World Horse Welfare. In her spare time she loves spending time with her rescue ponies and running marathons.
---
Registered Veterinary Nurse and Administrative Assistant: Lauren Blyth RVN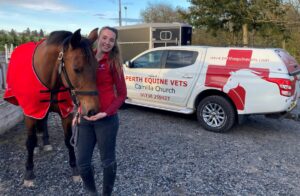 Lauren joined Perth Equine Vets in January 2021, and is thoroughly enjoying being part of the team.
Lauren has been a registered veterinary nurse since 2019, and trained at a mixed Perthshire practice for 3 years before qualifying. She enjoys all aspects of life as a veterinary nurse at Perth Equine Vets, but has a keen interest in diagnostic imaging. She is also very keen on client education – so is loving the 'Education Series'!
Lauren has been around horses for as long as she can remember, and up until recently was the proud owner of Perthshire's most injury prone horse, who she credits her initial interest of veterinary nursing to. For 13 years, she would be pleasantly surprised when she  arrived at the gate to find her in one piece – she almost earned her own name plate at The Dick Vet.
In August 2020, Lauren bought a lovely warmblood mare, Patsy. Unfortunately they haven't been out and about much due to restrictions but when she's not on furlough, Patsy enjoys showjumping and eventing. She imagines she'll enjoy getting home in one piece! For the time being they can be found ambling around the Perthshire countryside daydreaming of rosettes and bacon rolls.
Outside of the world of horses, Lauren also work at a mixed practice as a small animal veterinary nurse where she has a keen interest in emergency and critical care. She enjoys travelling around Scotland in her campervan with the dog, Louie. Lauren is a great baker – much to Camilla's delight when the produce is brought on calls, and loves hill walking.
---
Admin Assistant: Alison Craig
Alison has a reassuring and efficient manner, and joined the team in May 2021 as our admin assistant. She lives locally with her husband and two children, two dogs, 20 Cheviot sheep and lovely horses, Hope and Bracken.  She is on the committee for the local Pony Club and spends lots of time ferrying Hope to rallies with her daughter!